Saturday, March 5
at 7:30 p.m.
Cheng2 Duo Programme Available Online
We will be selling the following titles on behalf of Cheng2 Duo this Saturday:
Violonchelo del fuego ($20.00)
Russian Legends (2-CD set $35.00)
Cash only please.
The artists will be available to autograph your copy following the performance.
photo by Harald Hoffmann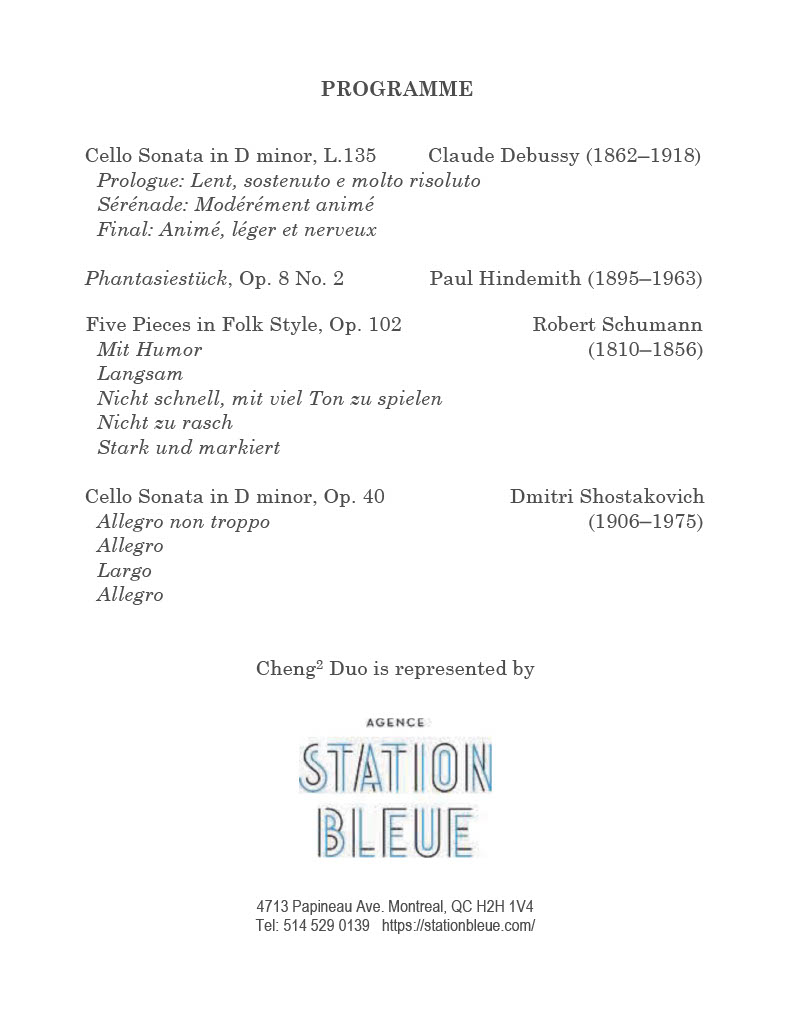 We welcome the phenomenal brother-and-sister duo of Bryan (cello) and Silvie (piano) Cheng who are back to take us on a fascinating and romantic musical journey with works by Beethoven, Britten, Brahms, and Hindemith. Since their debut at Carnegie Hall in 2011, Cheng2 Duo has received continuous praise from audiences and critics for their artistic excellence, generous spirit, and irresistible energy. This duo's refreshing approach to making classical music accessible to new audiences of all backgrounds strikes a rare balance between infectious joy and enthusiasm, combined with experience and insightful, historically informed interpretations.
About Cheng2 Duo
Captivating audiences and critics alike, the "brilliant"   (The Times, UK) and "truly exhilarating" (The WholeNote, Canada) Cheng² Duo (pronounced Cheng Squared Duo) distinguishes itself with its uncompromising musical integrity,  undeniable chemistry, and unparalleled communication with its listeners. The Chinese-Canadian brother-and-sister duo is formed by cellist Bryan Cheng – First Prize winner of the 2022 UNISA International Music Competition, and playing   the   Canada Council for the Arts' prized ca. 1696 'Bonjour' Stradivari – and pianist Silvie Cheng,  recipient  of  the  Roy  M.  Rubinstein  Award for exceptional promise inpiano performance.
Named one of CBC Music's "30 hot Canadian classical musicians under 30", the dynamic Cheng² Duo tours extensively to present engaging recitals in illustrious concert halls and international festivals throughout North America (Canada and USA), Europe (Belgium, Czech Republic, France, Germany, Holland, Italy, Switzerland, the UK), and Asia (China and South Korea). Past performances and interviews have been broadcast on CBC Radio, ICI Musique, Radio-Canada International, Vermont Public Radio, WCRB Classical Music Boston, WCNY Classic FM,  Kulturradio RBB and Südwestrundfunk (SWR2) Germany, ORF Austria, and Classical Radio Orpheus (Moscow).
Cheng² Duo has released a trilogy of critically-acclaimed albums on the German label audite: Russian Legends (2019), Violonchelo del fuego (2018), and Violoncelle français (2016), which was selected as one of WCRB Classical Radio Boston's top CDs of 2017. The duo's recordings have been lauded by the press in a dozen countries worldwide for their "phenomenal virtuosity", "maturity and perfection", "extremely imaginative and personal interpretation", "taste, sure flair for phrasing, and tonal beauty".