Saturday, April 2
at 7:30 p.m.
Ladom Ensemble – Programme now available.
photo by Bo Huang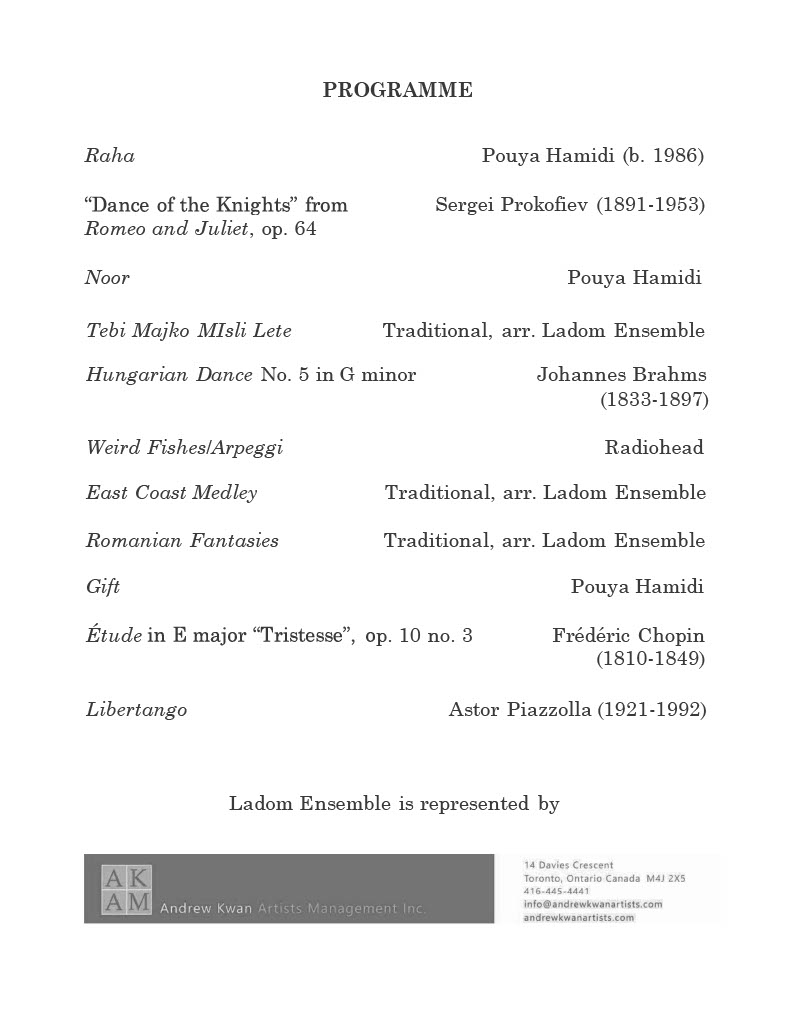 ABOUT LADOM ENSEMBLE
Pouya Hamidi, piano                           Beth Silver, cello
Michael Bridge, accordion                  Graham Hargrove*, percussion
(*Mr. Hargrove is the alternate for Adam Campbell who could not be with us for this performance)
Creating a new musical identity, Ladom Ensemble draws from Balkan, Persian, South American, Turkish and European influences and blends it all in a unique instrumentation that is passionate, sophisticated, and wild. Their original repertoire and arrangements have hints of folksongs, classical, Latin, and a little progressive rock. Ladom doesn't pretend to represent any specific tradition, but rather expresses an authentic artistic fusion. Ladom Ensemble reflects the beautiful new Western world! Their program consists of new sounds infused into classics like Prokofiev's Dance  of the Knights, Brahms' Hungarian Dance No. 5, Chopin's Tristesse and Canadian East Coast's folksongs to Argentinian Tangos. As CBC Radio's Errol Nazareth describes them "Elegant and contemplative…they are rocking and fiery!"
Please visit: www.ladomensemble.com
We are thrilled to conclude our season with Canada's Ladom Ensemble, whose performance in April 2020 had to be postponed. The music of this unconventional quartet made up of Pouya Hamidi (piano), Michael Bridge (accordion), Beth Silver (cello), and Adam Campbell (percussion) includes original compositions, adaptations of world music from Iran, the Balkans, Argentina, and elsewhere, and their own twist on well-known classical masterworks. A fresh, astonishing concert, bound to delight!