Storms of Life
Saturday, October 28, 2023   7:30 p.m.
Agnė Radzevičiutė and Dmitri Levkovich – piano
One piano and two pianists: a special collaboration.
The musical literature for four hands at one piano invites increased levels of intimacy between the performers and the instrument. In a diverse and captivating programme of solo and duo repertoire, husband-and-wife pianists Dmitry Levkovich and Agnė Radzevičiutė will showcase the wide spectrum of musical artistry of which one piano and two pianists are capable. In this piano extravaganza, these brilliant musicians will present works by Chopin, Schubert, Liszt, Prokofiev, Schulz-Evler, Mozart, Rachmaninoff, and Mendelssohn. The programme is titled after Schubert's Allegro in A Minor 'Lebensstürme', D. 947, one of the composer's most imposing sonata movements.
Comfort and Joy
Saturday, December 2, 2023   7:30 p.m.
Toronto Brass Quintet and Andrew Rasmus – percussion
What better way to usher in the festive season than with the spirited sounds of brass and percussion. Join the dynamic Toronto Brass Quintet and percussionist Andrew Rasmus as they explore holiday traditions from around the world. Featuring new arrangements of standard and not-so-standard seasonal favourites, this concert promises to take you on a journey across regions and styles while introducing you to unique and rich sounds.
Gryphons @ 30
Sunday, January 14, 2024   2:00 p.m.
Gryphon Trio
Canada's extraordinary and beloved Gryphon Trio is in full celebratory mode as they mark their 30th anniversary! For this special occasion, violinist Annalee Patipatanakoon, cellist Roman Borys, and pianist Jamie Parker will offer a kaleidoscope of favourite musical moments (and stories) featuring excerpts and movements from works by celebrity classical composers, old and new, in addition to performing Schubert's epic Piano Trio No. 1 in B-flat major, D. 898.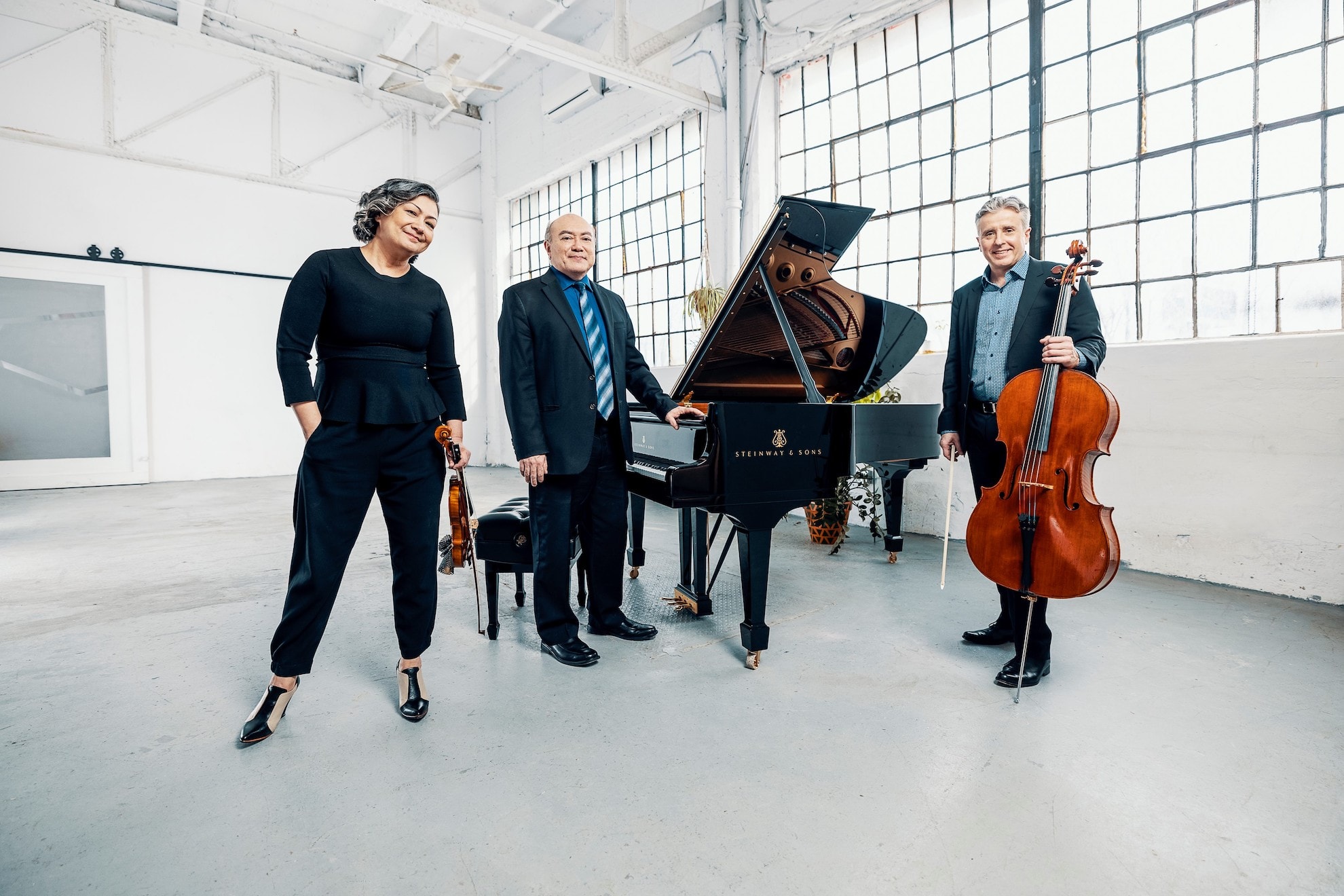 Cover image from the Gryphon Trio's recording of Haydn's piano trios, released on the Analekta label in May 2008.
Tangomania!
Saturday, March 9, 2024   7:30 p.m.
Payadora
The award-winning ensemble Payadora will spice things up a little in a joyful, virtuosic, humourous, and intensely passionate performance. Combining their profound love of tango with their classical, jazz, and world music backgrounds this superstar group has created something entirely new. The programme will feature the ensemble's own arrangements of a core repertoire drawing from Argentinian/Uruguayan traditions (tangos, milongas, waltzes, and folk music such as the Zamba and chacarera) as well as original songs inspired by those traditions.
Campbell/Fagan/Park Trio
Saturday, April 13, 2024   7:30 p.m.
James Campbell – clarinet
Leslie Fagan – soprano
Angela Park – piano
The esteemed clarinetist and long-time Artistic Director of the Festival of the Sound in Parry Sound, James Campbell, world-renowned soprano Leslie Fagan, and Angela Park, one of Canada's most sought-after pianists, join forces for a one-time-only gala recital of chamber music and song. In addition to works by Debussy, Saint-Saëns, and Schubert's Shepherd on the Rock, the illustrious soprano will be performing a selection of songs and arias from popular operas and musicals.